Choose Quality based Project Organizer 
One of the particularities of 
ProjeQtOr
, 
which make it radically different from others, is that it is Quality Oriented.
In the facts, this means that you will get all the tools that will ease to ensure conformity to any Quality Management System, effortlessly and without any extra tool.
« Quality will waste my time, it is full of heavy processes, it will slow down my project. »
It's what is too often heard from Project Leaders and teams.
But quality is simply meeting area between
«
 Expectations
» (some needs)
, an « Expression » of this need (a request, a specification) and some Realization (a product, a software).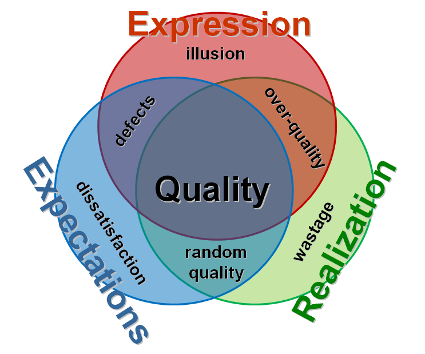 Now, in practice, Systems Quality Management can often be seen as heavy with no added value. 
However, the value actually exists, but it appears especially in cases of conflict or disagreement between the parties. Moreover, it is not so hard to implement. 
For the majority of quality processes can be summarized in three actions:
Write what is to be done

     

It means describe expectations.
It is the need expression or specification.
Validation of these documents will ensure that need expression fits expectations.
 Do what is written
 
It means realize exactly what is described.
It seems obvious, but it is worth saying.
 
 
Write what has been done
 

It means describe what has finally been realized.


This can be for example through technical papers or reports

.
This principle is easily applicable for instance to meeting: 
Set the agenda of the meeting 
Follow the agenda for the meeting 
Write the minutes of the meeting. 
This simple principle avoids sterile meetings, much "time consuming". And this principle can be applied to almost every project step. 
ProjeQtOr 
will permit you to implement this principle in a simple and mostly centralized way. Everything is written and everyone shares the same information. 
You can track and trace all activities through tickets, activities and milestones, with the possibility to define custom checklists. 
You can measure the risks and opportunities and define the Risk Management Plan by building up adequate action plan. 
You can list the requirements and verify test coverage, and the results of these tests on test sessions.
You can control the various exchanges, such as questions / answers, decisions, and the evolution of the documentation. 
You can also find just during which meeting such a decision was taken and who was present. 
All of this in a simple, fluid, shared and centralized way.